At Mindstorm, we understand that the parents of special needs children face particular challenges when navigating the intricacies of your district's educational policy and school system. As certified educators with broad experience, both personal and professional, we are qualified to provide guidance and advocate for your child's educational needs. Our goal is to help make that process as seamless and beneficial as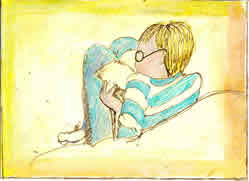 possible for a positive educational experience. Tutoring Services Chatham Madison Morristown North New Jersey by Mindstorm Tutors
To that end, we are available to visit your child's classroom and if appropriate, accompany you to ensure that your child receives all of the necessary accommodations to enhance his or her personal growth and educational potential, whether he or she is placed in a mainstream or modified classroom setting.
Mindstorm teachers understand that each student is a unique individual whose strengths must be utilized to overcome deficits in a positive, nurturing environment. It's our belief that a child's confidence level must be a primary consideration, which will allow the student to take the kind of risks necessary to move beyond his or her initial comfort level. A focus on the whole child allows a student to thrive, confident of their value in a community of learners.
Special tutors for special students
It takes patience and a special understanding for teachers to reach a student with special needs. Mindful that is student is an individual, our multi-sensory approach and differentiated instruction has helped us reach students of all levels with the goal of enhancing their skills to allow them to reach their full potential. We strive to not only assist them attain their academic and IEP goals, but to help enhance their self-esteem and confidence with positive feedback and encouraging strategies that enable a student to persevere and overcome obstacles standing in their way to success.
Through research and experience, our tutors have encountered and successfully taught students with a wide variety of learning challenges and disabilities. We have successfully empowered students diagnosed with:
ADHD
Autism Spectrum Disorders
Learning Disabilities including dysgraphia, dyslexia, reading, and writing disabilities
Expressive language disorder
Social anxiety,
Selective mutism disorder,
Sensory integration dysfunction
and Auditory processing deficits
We help to enhance social skills, auditory abilities, verbal and written communication. We can help increase reading skills such as decoding and comprehension. We are able to assess and recommend accommodations that will provide continued successful experience in the child's school setting advocating for the needs of your child. Contact us to discuss your child. We are ready to listen and assist you.